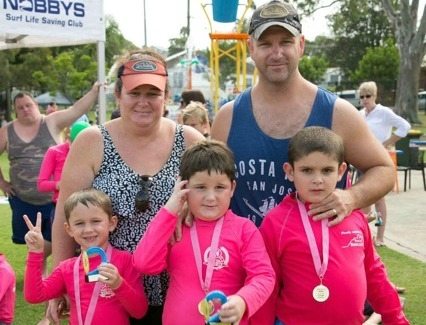 Bailey and Fletcher
"Our lives changed when Bailey, then Fletcher were born. Both boys have autism. Bailey (Bai) is more profound in that he is 'non-verbal' apart from one or two words," Mark Midson explains.
Mark and Mel's days became confined to caring for their sons and looking for assistance, as they fell away from the mainstream community.
Mel says, "An example of Bailey's condition was his terror of the water and even the beach. If we took him anywhere near the sand he would vomit with fear. So when I heard about the New Wave Nippers Program and suggested it to Mark, he said 'yeah right!'"
The New Wave Nippers program is an inclusive Nippers program for children with a disability, and is a collaboration between House with No Steps and NSW Surf Life Saving Association.
A Nippers program might not seem such a big deal, but children with disabilities often have low self-esteem and lack confidence. By opening the door to sport these issues can be addressed, improving coordination, communication, health and well-being while making friends with kids of all abilities.
Mel says, "We went to see Louise from House with No Steps and she assigned a very special young man, Jacob, to be Bai's one-on-one carer at Nippers. We were so sceptical that we didn't even put Bai in bathers for his first time…
"But I'll never ever forget seeing the transformation. Within an hour Jacob had won Bai's confidence. First he was kicking a beach ball on the sand, then he was making sand castles and finally to our total astonishment… he was in the water.
Nippers was the first thing we did as a family where all three of our kids were welcomed. It was the only time in the week where our family was accepted. We felt 'human' again," says Mark.
Inspired by this success, Mark helped organise a second sporting activity for kids with disabilities in his local area – the Arnetts (meaning 'little eagles') soccer team for kids with a disability.
The change in both Bailey and Fletcher has been immense.
"The kids have gone from not looking at each other to high-fiving and hugging when they score goals."
And it's not just on the soccer field that positive changes have occurred. "Bailey's interacting more with other children, he's not running away as much. He can go on school excursions where he couldn't before."
Your fundraising efforts support programs like these to help kids with a disability thrive and develop in ways they and their parents never thought possible.