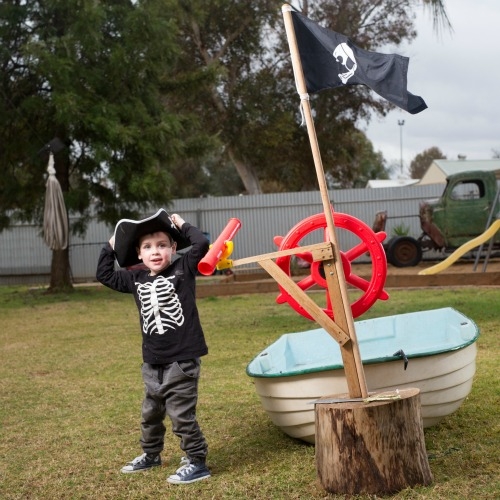 Jovi
When Jovi was 16 months old, his mother, Emma, noticed that he wasn't communicating as well as he used to. Shortly afterward, he stopped communicating altogether.
As well as withdrawing from his world, Jovi had no awareness for his own safety, or anyone else's. He was a danger to himself.
Emma worried constantly that he'd get hurt. And it was heartbreaking not being able to communicate with Jovi.
When Jovi was diagnosed with autism, his family finally had an answer, and could seek the support they needed. They turned to House with No Steps' early childhood intervention services.
The House with No Steps Little Learners Stepping Together program supports families to understand autism. The program provides parents with necessary skills and knowledge to continue to support their child in all their natural environments.
For Jovi, it was a challenging process.
Early intervention specialist, Louise French, explains: "He was like a whirlwind when we first met him. It took about 10 months before we began to see a difference in Jovi. We slowly had to build his trust; sometimes this meant just sitting with him in a darkroom with minimal stimulation so he could be calm; sometimes we would rub his feet to calm him down."
For a little person with autism, sensory stimulation of any kind can be distressing.
For Jovi, programs like Little Learners means so much. He has learnt how to control his emotions and he is gaining the tools needed to cope with social and school environments. He's learning how to have fun in a safe way.
Stepping Together helps children and their families living with autism to have insight into the many challenges that may be faced—emotionally, socially and developmentally. It supports the child to develop confidence and skills to communicate and interact with the people around them, allowing them to make friends and be included.
Emma has this message for you:
"I don't know how I can ever show or say how thankful I am for all the support I've been given. It has made and continues to make a huge difference in our everyday life. But truly from one very proud Mum, THANK YOU!"
To deliver these quality programs, we rely on the generosity of people like you. Participating in the For Fitness Sake challenge and fundraising for vital programs like this has a huge impact on families' lives. Thank you!